A Brief History of Steamboats – The Steamboat Era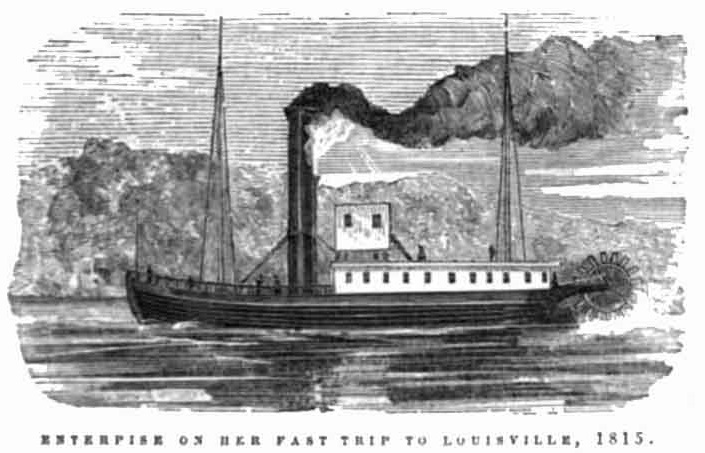 A Brief History of Steamboats: The Steamboat Era
by Ben Morrill, Visitor Center Site Manager
Following his success with the Clermont, Fulton and Livingston ambitiously set about to find a way to demonstrate their invention to a national audience with a journey from Pittsburgh to New Orleans. Enlisting the help of inventor Nicholas Roosevelt, great grand uncle to future president Theodore Roosevelt, they set about surveying and exploring the waters of the Ohio and Mississippi Rivers. After a yearlong expedition in 1809 down the Ohio and Mississippi, construction began on their new vessel in 1810.
Dubbed the New Orleans after the city that would become her home port, construction began in Pittsburgh in 1810. Finishing the following year, estimates put the New Orleans at just over 148 feet long, 32 and a half feet wide, and 12 feet deep, although whether or not the boat was a stern wheeler or side wheeler is still up for debate by historians. Launching in October 1811, the New Orleans began her historic journey down river on October 20th, passing through Cincinnati on October 27th, finally reaching New Orleans January 10, 1812. Although the New Orleans sank two years later, once again Fulton successfully demonstrated the power of steam engines.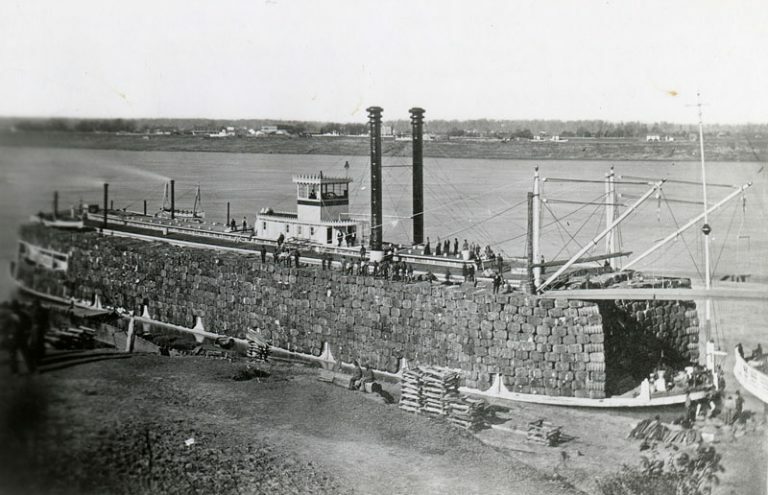 The Rise of the Steamboat Era
Once again successfully demonstrating of the power of steam engines, Fulton's work inspired others, sparking a boom for steamboats that lasted well into the 19th century. Production of steamboats continued to grow and in 1826, just fourteen years after the New Orleans successfully completed its journey, there were 143 steamboats on the river. By 1830, there were more than 1200. Demand for steamboats continued to increase and Cincinnati and the surrounding area soon became a hub for steamboats and steamboat production.
Traveling at an average speed of 5 miles an hour and able to travel up river, steamboats proved to be a popular alternative to slower flatboats that often had to be disassembled and sold for scrap at their final destination. More steamboats began appearing on the nation's waterways and while every steamboat had side or a stern mounted paddlewheel and shallow hull, steamboats featured different designs for specialized tasks and roles. With flat decks and luxurious first class state rooms packet boats transported people and goods up and down river while glamorous showboats provided entertainment and snagboats, with cranes mounted on their bows, helped clear dangerous debris from the river.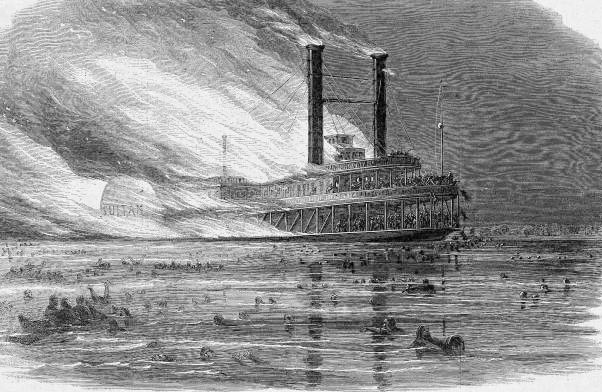 Despite the popularity of steamboat travel, it was not without its risks. In 1860 alone more than 474 people died travelling on steamboats due to collisions, fires, and boiler explosions. Boiler explosions were the deadliest and the most common disaster on steamboats as the poor construction of many engines along with the high pressure steam engines the boats used could lead to temperature spikes resulting in explosions. Between 1812 and 1865 almost 4,000 passengers perished due to boiler explosions, the deadliest being the Sultana, which resulted in the deaths of 1192 people and is considered to be the worst maritime disaster in United States history.
Following the Civil War, railroads emerged as a cheaper, faster alternative to river travel marking the beginning of the end of the steamboat era in America. Find out more about the decline and end of the steamboat era next week.