After Over 20 Years, New Faces on Clermont County Park Board
Clermont County Probate Judge James A. Shriver has appointed two new members to the Clermont County Board of Park Commissioners. John Stowell, a long-time resident of Miami Township, and Andrew McAfee, a life-time resident of Union Township have joined David Anspach, who has served on the board since 1997. This year, Anspach will serve as chairman and Stowell as vice chairman.
Stowell and McAfee fill the seats left open by long-time board members Ken Stewart and William Stearns, both of whom retired at the end of 2020.
John is retired from Duke Energy where he served in a number of executive positions, including leading the company's government affairs, energy and environmental policy and international policy groups. In his 28 years with the company, he worked with Congress to help shape the Clean Air Act of 1990 and repeal the Public Utility Holding Company Act of 1935. John is originally from Buchanan, Michigan and is a 1975 graduate of Michigan State University, where he majored in journalism. Currently, John lives in Miami Township just outside of Loveland with his wife Marlene. They have two grown children, Maria and Stephen.
Stowell, who describes himself as an avid bicyclist and outdoors lover, said he was anxious, upon his retirement, to contribute toward improving the community. The opening on the park board, he said, provided that opportunity. "My goal as a board member is to help and improve and grow our outstanding county park system," he said. "I am particularly excited about our latest addition at Grailville, which will bring recreational and educational opportunities to residents in the northern part of our county."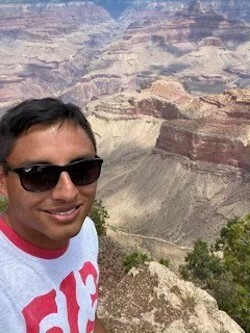 McAfee is currently the Director of Government Affairs for the Clermont County Chamber of Commerce. Prior to joining the Chamber, he was Congressman Brad Wenstrup's Field Representative in Clermont County and, during the recent election, took a leave of absence to serve as his campaign manager. Adopted as a baby from Honduras, Andrew is a lifelong resident of Clermont County and currently resides in Union Township. He is a graduate of Glen Este High School, the University of Cincinnati, and is currently working towards a Master's in Public Administration at Eastern Kentucky University.
Andrew's interest in Clermont County parks goes back to his childhood. "Growing up, I was a frequent visitor of the parks throughout Clermont County. During the stay-at-home order early last year, I really got to know all of the parks even better as an alternative to the gym. When I saw the opportunity to join the Board, I thought it would be a great way to protect and promote the parks that I have grown to love throughout my life.
"As a young professional in Clermont County, I'm really looking forward to working with the Parks team on ways to promote and highlight all of the great things our parks have to offer, especially to millennials and young families. We have so much to offer here in Clermont County and I cannot wait to help showcase all of our great parks!"
All three commissioners serve three-year terms without pay and provide stewardship over Clermont County's six parks, three nature preserves, the Williamsburg-Batavia bike trail and several green spaces.