Clermont organizations collaborate to launch new county brand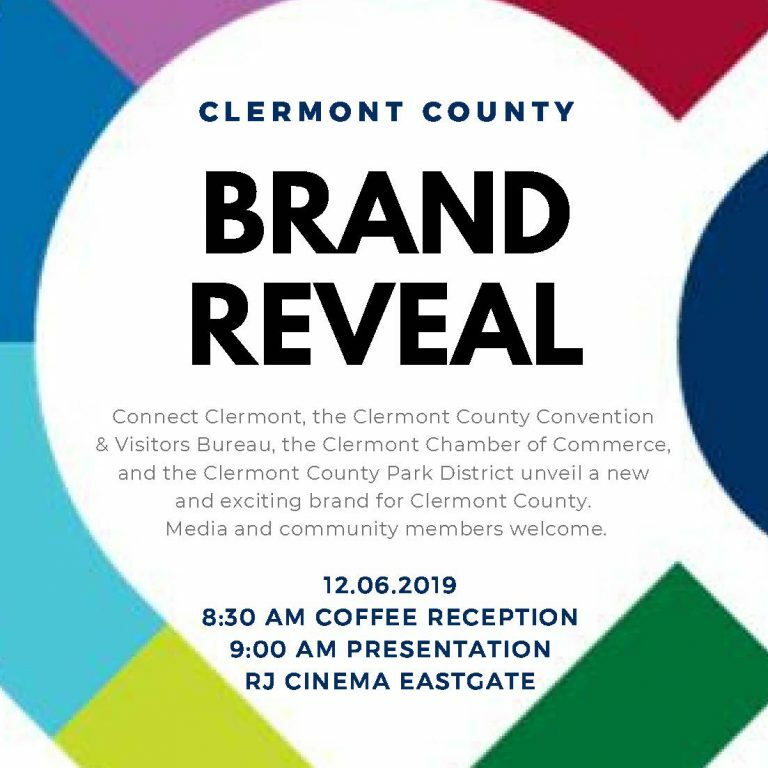 BATAVIA – Connect Clermont, the Clermont County Convention and Visitors Bureau, the Clermont County Park District and the Clermont Chamber of Commerce joined forces to respond to a community-identified need for a "clear and recognizable brand for Clermont County."
This call to action sprang from the Agenda for the Future of Clermont County, a community vision and strategic plan created in 2015. The brand reveal takes place at 9 a.m. Dec. 6 at RJ Cinema Eastgate (4450 Eastgate S. Dr. Cincinnati, OH 45245).
The organizations teamed up to research and identify the qualities that make Clermont County uniquely suited for residents, businesses and visitors. This reveal introduces the resulting attributes, messaging and logo for the county brand, as well as each of their coordinated individual organizations.
Clermont County representatives partnered with Intrinzic Brand Collaborative to conduct this research and develop the brand. Intrinzic, based in Newport, Ky., is a fully integrated marketing agency dedicated to elevating and building stronger brands through alignment of strategy and passion.
"This new brand is not about changing who we are. It is about capturing those things that truly unify us," said Bob Pautke, Chairman of the Board of Directors for Connect Clermont. "We are excited for residents, business leaders and visitors to discover the unique attributes that define our culture in Clermont County."
A coffee reception will begin at 8:30 a.m. prior to the reveal. The reveal presentation will begin promptly at 9 a.m. Representatives from each organization will be available for questions and interviews upon request following the presentation. Members of the media and community are invited to attend.
For media inquiries, contact Bob Pautke at 513-608-6265 or info@connectclermont.com.
About Connect Clermont- Connect Clermont exists to harness the collective power of individuals and organizations to continually improve life in Clermont County. Connect Clermont is the Community Advocate.
About the Clermont County Convention and Visitors Bureau- The Clermont County Convention and Visitors Bureau is a professional destination marketing and sales organization, whose mission is to strengthen the community by generating economic growth and vitality through tourism, overnight stays and encouraging visitor spending in the local tourism economy.
About the Clermont County Park District- To acquire, plan, develop, program and maintain park property in the county for residents and nonresidents alike. To secure the preservation of open space and places of scenic or historic value.
About the Clermont Chamber of Commerce– The Clermont Chamber is a voluntary association of businesses, professionals and individuals working together to enhance the Clermont Community. Our goal is to make Clermont County a desirable place to live and work.
Park District unveils van wrap | Park District | Clermont County, Ohio - […] The wrap is one of the first – and will certainly be among the most visible – changes to…