Helping make holidays more green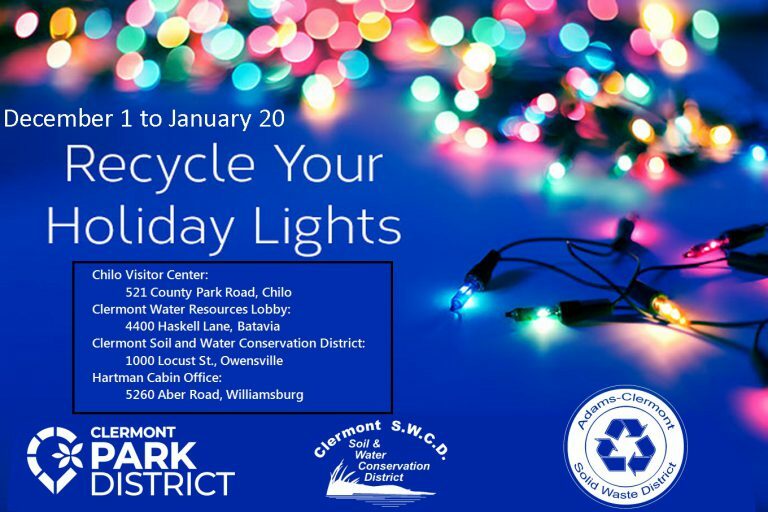 BATAVIA – Many traditionalists hope for a white Christmas, but several Clermont County agencies will join forces to make the holidays more green.
The Clermont County Park District, Adams-Clermont Solid Waste District and Clermont Soil and Water Conservation District will partner with Cohen Recycling to provide bins to collect and recycle old holiday lights.
Starting Dec. 1 and running through Jan. 20, 2020, Clermont County residents and visitors can recycle used holiday lights at several locations around the county, including:
Chilo Lock 34 Park Visitors Center: 521 County Park Road, Chilo, Ohio 45112
Hartman Log Cabin Office: 5260 Aber Road, Williamsburg, Ohio 45176
Clermont Water Resources Lobby: 4400 Haskell Lane, Batavia, Ohio 45103
Clermont Soil and Water Conservation District: 1000 Locust St., Owensville, Ohio 45160
"We've all had that strand of lights when you're putting up your tree that is too tangled to mess with," said Mark D. Motz, Park District community relations manager. "Or the ones with too many lights burned out by the end of the season to make them worth keeping for next year.
"This program gives a good, green place to get rid of an item a lot of people probably didn't even know was recyclable. We're glad to partner with Solid Waste, Soil & Water and Cohen on this project and do a little bit to help the environment and preserve our natural resources."
Items to be recycled include indoor and outdoor light strands, icicle lights and rope lights. Please do not bring individual bulbs, pre-lit trees, wreaths or other decorations.
For more information on recycling holiday lights, please contact Hannah Lubbers of the Solid Waste District at hlubbers@clermontcountyohio.gov or visit www.CohenUSA.com/lights.