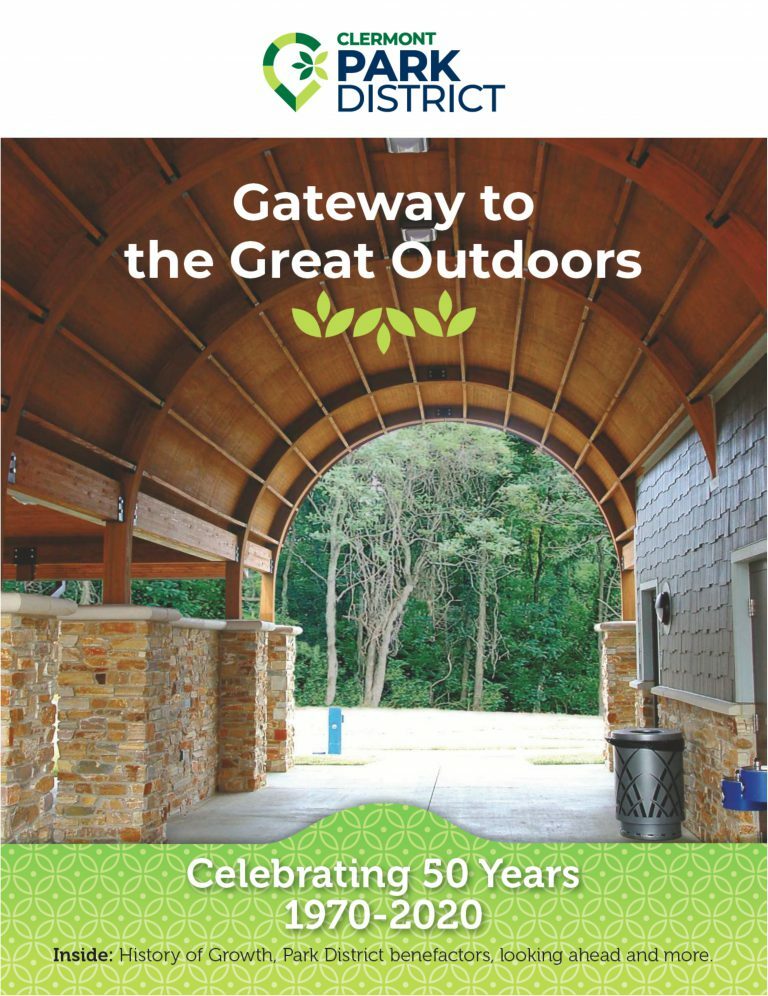 The past year, our 50th year anniversary, wasn't quite what we'd expected. As we begin the new year, we take a look back at our once big plans for 2020 and new hopes for the future. For 50 years we've been intertwined in the fabric of Clermont County, and we hope to continue to preserve and protect Clermont County's natural resources for many years to come.
Read more about us and the past 50 years of Park District growth in our 50th Anniversary Booklet below. Even though we didn't get to give these booklets out at park celebrations as planned, we would love for you to take a look!
Here's to a Happy New Year!
Robin Green, Lead Naturalist
Gateway to the Great Outdoors: Celebrating 50 Years
For 50 years we've been intertwined in the fabric of the Clermont County, one of the institutions helping raise the quality of life for our residents and visitors. For 50 years we've provided places where individuals, families and friends can get outside, get active and create lasting memories.
For half a century – as our mission statement says – we've worked "to acquire, plan, develop, program and maintain park property in the county for residents and nonresidents alike. To secure the preservation of open space and places of scenic or historic value."
In 1970 – when the average gallon of gas cost 36 cents – the Park District existed only on paper. It took two years for the former Rotary Club Park in Batavia to be called Sycamore Park and open to the public.
Sycamore remains our biggest – and busiest – park. But we've grown to include the adjacent Wilson Nature Preserve, Pattison Park in Owensville, Hartman Log Cabin in Jackson Township, Chilo Lock 34 Park and Visitors Center (and the adjacent Crooked Run Nature Preserve), Kelley Nature Preserve in Miami Township, Shor Park in Union Township and the Williamsburg-Batavia Hike/Bike Trail.
We have partnerships with the Clermont Soil and Water Conservation District and the Office of Environmental Quality to protect county waterways and make permanent green spaces.
Clermont County voters overwhelmingly approved a .5-mil, 10-year tax levy in 2016. We are proud of the tangible results produced so far with our strategic stewardship of those funds. Highlights include new picnic shelters, restrooms and playgrounds at Shor, Sycamore and Pattison parks; restoration and painting of the iconic water tower at Chilo Lock 34 Park; upgrades to HVAC and lighting systems at Pattison Lodge, Hartman Log Cabin and the Chilo Lock 34 Park Visitors Center; and the acquisition of 134 acres and buildings on the former Stricker property next to Pattison Park, where we're making plans for a new Park District headquarters. We look forward to creating new facilities and opportunities at 10-Mile Creek Preserve in Pierce Township and the Grailville Preserve in Loveland. We're grateful for the first 50 years and hope read more…