Park District assists local improvement projects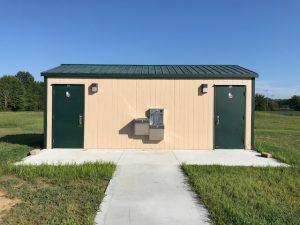 GOSHEN – Beauty comes in many forms. Not all of them glamourous.
For example, take the restrooms at the Goshen Park District's Stagge-Marr Community Park.
The Clermont County Park District Community Parks Improvement Grant Program helped facilitate the new facilities.
The grant for $15,100 helped construct a new building with a men's and women's bathroom – each with a baby-changing stations – a dual drinking fountain and storage space.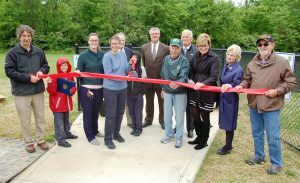 In the works since 2017, the restrooms officially opened in during the Goshen Bicentennial celebration in July.
"Many of the local parks don't have the funding they need," said Park District Director Chris Clingman. "They rely on donations and volunteers. This is our chance to help.
"These grants go a long way in places where parks don't have many resources. And that goes a long way to enhancing the quality of the parks and giving people more reasons to get out and enjoy them."
The Goshen restroom project was the last of 13 projects from the 2017 grant cycle to wrap. The Park District earmarked $104,702.02 that year and disbursed $84,702.02. (Jackson Township returned its $20,000 grant because it could not meet the additional requirements from Ohio EPA for its restroom project.)
The Park District funded seven projects with $94,904.08 for the 2018 grant year; all of them are now completed. Projects included money for:
Batavia Township's dog park;
Park benches and resurfacing basketball and tennis courts at Loveland's McCoy Park;
A retaining wall for the City of Milford's section of the Little Miami Bike Trail;
Miami Township's fishing platform at Miami Meadows Park;
Keyless entry door locks for Monroe Township's Fair Oaks Park;
Repairs to Vietnam Memorial pavers at Veteran's Memorial Park in Union Township;
New gazebo at Union Square Park in New Richmond.
The funding – authorized by the Board of Park Commissioners – is part of the Park District's 2016 operating levy and continues its commitment to elevate park experiences for every resident of the county.
"This grant program is a big part of who we are as a Park District," Clingman said. "It helps intertwine us into the fabric of the county. We want to make sure people have the best possible experience when they visit a park in Clermont County, whether it's one we manage or not."