Park District volunteer earns award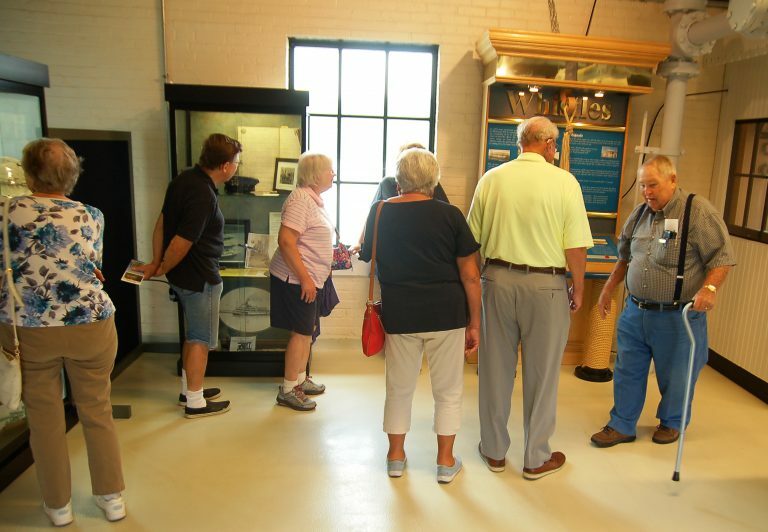 Confession time. The Clermont County Park District acted dishonestly.
Because a volunteer would never toot his own horn, the Park District invented a misleading story about a grant application to gather some information to use on an award nomination.
The trickery worked. Captain Bill Judd received the 2019 Clermont County Salute to Leaders Award for Parks and Recreation from the Chamber of Commerce Foundation April 23.
"Bill Judd of New Richmond deserves a Salute to Leaders Award for a number of reasons, not least being his deep passion for and promotion of the integral role Ohio River history has played in Clermont County and beyond," the nomination said. "Even before it opened in 2005, Bill was a leader in helping plan and develop the museum at Chilo Lock 34 Park."
"Ever since they started the deal to make a museum at Chilo, I was there from the very beginning," Judd said. "I've been drawn to the river my whole life and I was really hopped up to have a local museum for Clermont County to talk about all the history we have. That's what made me want to get involved. It was a terrific opportunity to really promote the river and promote the county.
"I think just seeing that museum become, in my opinion, one of the finest small river museums in the United States has been a thrill to think I've had a small part in that. I've been on the board at Point Pleasant and Marietta; I've seen a lot of museums. But for a place kind of on its own – that doesn't have the state or federal money some of the others have – I think it's one of the best. I tell everyone I meet about it. I was proud of being part of it coming together and I'm proud of where it's going."
Judd served 25 years as chairman of the board of the Sons & Daughters of Pioneer Rivermen and still sits on the board of governors. His connections with S&D – and specifically the Ohio River Museum at Marietta – have been invaluable to Chilo.
He helped secure grant funding for – and later helped design and execute – the museum's popular whistle exhibit. He assisted on the grant funding for the Park District to acquire and build a shelter for the twin Frisbie steamboat engines from the Wakerobin located outside the museum.
Many photographs from Judd's personal collection decorate the museum walls. His words and expertise helped create the interpretive signs describing many exhibits.
Judd still volunteers with a group fondly called The River Men, many of whom he invited to help at Chilo because of their ties to S&D. Among their current projects are a push to create a non-profit Friends of the Park District group to help fundraising and special projects for the museum. They also gathered items and shared stories for an exhibit on Captain Ernie Wagner that will open later this year.