The man for whom they named the dam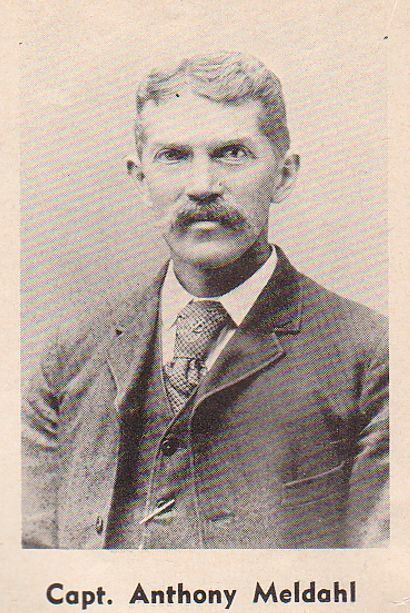 By Ben Morrill
Park District Site Manager
The Captain Anthony Meldahl dam opened in 1964, part of a U.S. Army Corps of Engineers project to replace obsolete wicket dams. Where once 52 labor-intensive wickets dams helped regulate the Ohio River water level, only 19 hydraulically operated gates now do the job.
With 95 miles between the new dams, boats spend less time waiting to navigate locks, meaning shorter trips up and down river. Such a marvel of modern engineering must be named after an important figure, so just who was the actual Captain Anthony Meldahl?
For one, he was a legendary riverboat captain on the Ohio. Meldahl's father Emil – who emigrated from Denmark – came from a distinguished shipbuilding family. Born in Parkersburg, W. Va., in 1855, Meldahl's career began in his early teens. He worked his way up the ranks, serving aboard riverboats like the Emma Graham, Andes, Katie Stockdale, Hudson and Ohio. In 1887, Meldahl became the master of the packet boat Harry D. Knox before taking command of Fashion in 1890.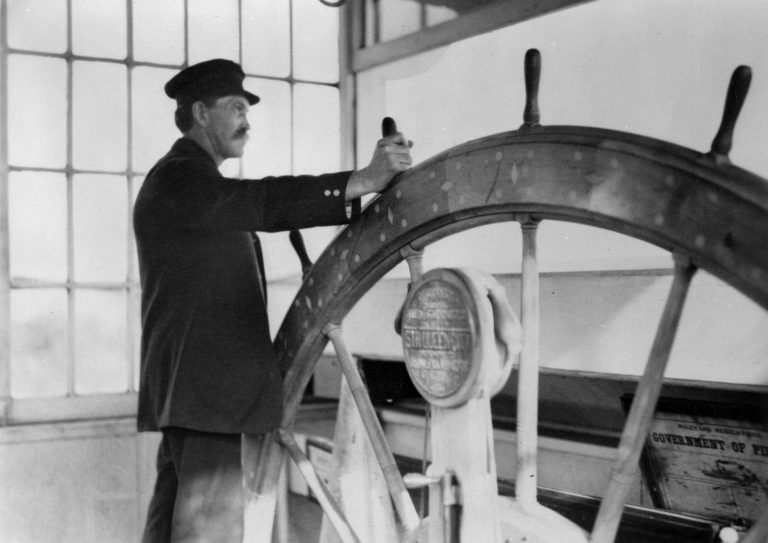 Despite owning stock in Fashion, Meldahl's command proved brief; the boat struck a bank and sank in June of 1890.
Meldahl purchased 77 acres near Neville, Ohio, in 1895. He named it Maple Lane Farm and lived there until his death in 1923. In 1897, he accepted a job as pilot on the passenger steamboat the Queen City, spending a decade at her helm.
The towboat Cayuga – part of a fleet of boats owned by the Corps – became Captain Meldahl's final command. Taking over as captain in 1916, Meldahl operated along the Ohio River in the Cincinnati, Huntington and Louisville districts for the next six years. He fell ill in January of 1923, was hospitalized in Cincinnati and passed January 26 at the age of 68. The Cayuga brought his body back to Neville where he was buried.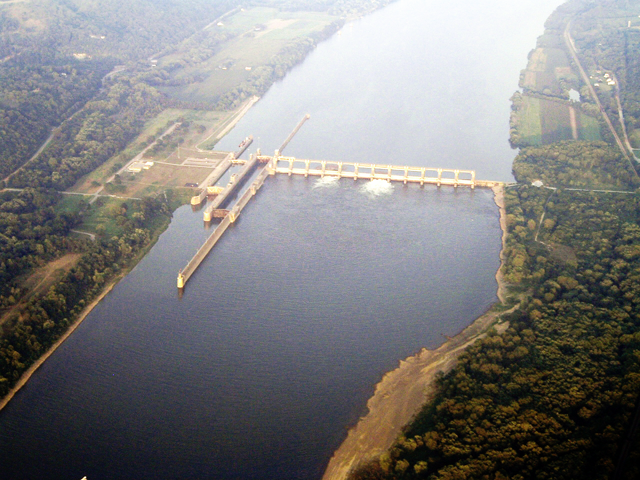 When construction began on the new dam in 1958, the Corps decided to name it in his honor. At the official dedication in 1965, his daughters Vera and Louise attended to honor their late father's memory.
More than 50 years later, Captain Meldahl's legacy is visible two miles downriver from Chilo Lock 34 Park. Learn more about the wicket dams the modern Meldahl Dam replaced at the Park District's visitors center and river museum, open 11-4, Wednesdays through Sundays.