Ten Mile Park Construction Underway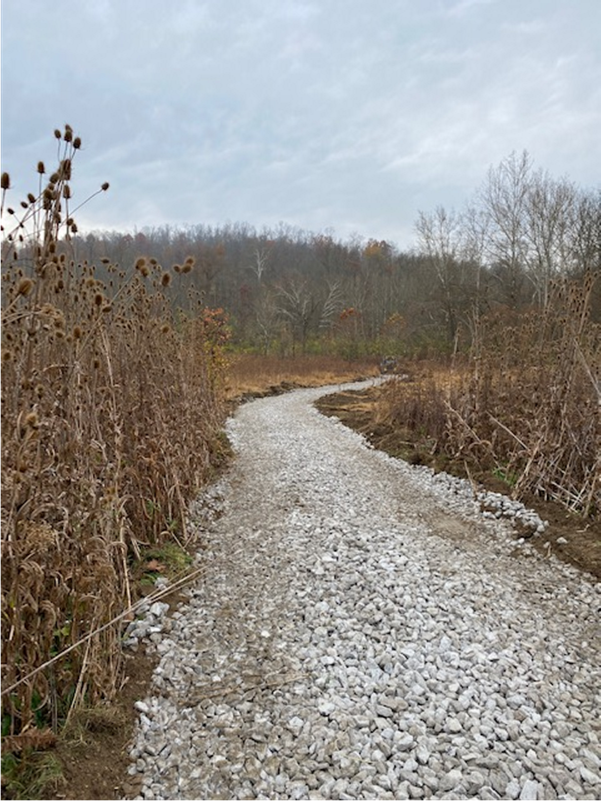 Construction is underway at Ten Mile Creek Preserve in Pierce Township! Many Clermont County residents may remember the preserve as the former Sky Valley Swim and Golf Club. With the help of the Clermont County Commisioners, the Park District acquired the property in 2014. Together, the entities obtained a Clean Ohio Fund grant to make the purchase. The Commissioners provided the required local match to the grant to help protect the County's drinking water well field, located just downstream of the preserve along the Ohio River.
The Park District received a second Clean Ohio Fund grant to improve community access to the preserve. These improvements will include a new parking area and mile-long graveled loop trail to provide year round hiking opportunities. The preserve often floods, causing the grass trails to remain soggy for weeks. The gravel trails will allow hikers enjoy the property as soon as the floodwater recedes.
Future work at the preserve will involve converting the golf course into a native meadow by removing invasive plants and planting native wildflowers and grasses. This will create better habitat for pollinators and grassland birds. Watch for monarchs, tiger swallowtails, bluebirds, field sparrows, and hopefully bobolinks!
Construction is weather dependent, but the hope is that the trails, parking lot and the installation of a new park sign will be completed by the beginning of 2023. Come out and take a look next year!